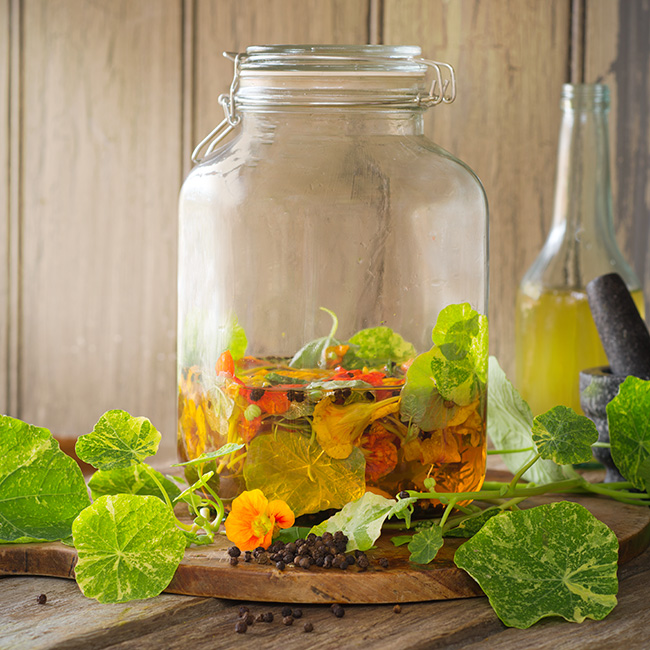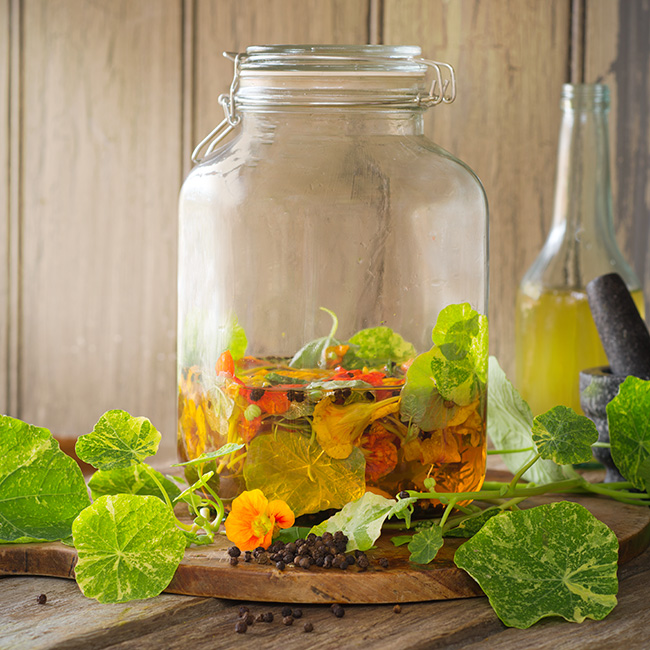 Nasturtium Vinegar
By Sean Beveridge Salad dressings, Salads, Vegan, Vinaigrettes, Vinegars
July 23, 2015
Vinegars and vinaigrette's are so easy to make - you literally have an unlimited number of combinations. This vinegar uses flowers, leaves and some pods. This Nasturtium Vinegar provides a fantastic savory, peppery taste that will give you that spicy hit when added to you salad dressings or sauces. Why not try and make your own homemade Nasturtium Vinegar and try it over your salads or steamed vegetables.
"For beautiful eyes, look for the good in others; for beautiful lips speak only words of kindness; and for poise, walk with the knowledge that you are never alone." - Nasturtium Flower, Audrey Hepburn
Prep: 10 mins

10 mins

10 mins

Yields: 1 cup
Directions
Wash and dry the Nasturtium leaves.
Remove all of the stems from the nasturtium leaves - you can use all of the nasturtium plant but remember it can be quite peppery, so I like to remove all of the stems.
Place the clean flowers and leaves into a large sterilized glass jar or container.
Add the rosemary and peppercorns.
Pour the vinegar over the ingredients, give a stir and set aside in a cool and dark place to infuse for 1-2 weeks.
Taste test after the first week and decide if you like the flavor. Leave for another week if you would like it to be more peppery. You will notice that the flowers will have faded and lost their distinctive color and the vinegar will have turned into a beautiful amber color. This will increase in darkness the longer you leave it.
Once you are happy with the flavor, strain the mixture through a fine sieve or filter, discard the flowers and leaves and store in sterilized bottles. We use the original vinegar bottles after we have cleaned them up or use nice old antique bottles which give it that nostalgic look.
Label and date your bottles and store in a cool, dark place.
To serve we will often transfer into smaller bottles to serve at the table and add a flower or two for great presentation.
Hints & Tips
♨️ Be sure to never spray your Nasturtiums with any type of pesticide. If you have to makes sure that you only use organic garlic type of sprays to keep the bugs away and make sure that you do not pick these leaves for up to 1 month after any treatment and make sure you wash them very well.
♨️ The key to a successful outcome of this recipe is to start with good quality vinegars; since there are so few ingredients used it definitely pays off to invest in better products and ingredients.
♨️ Try experimenting with different vinegars, herbs and spices.
♨️ You can buy great jars and storage containers from the cheap goods stores
♨️ To sterilize the jars make sure you give it a good wash and then rinse several times with boiled water. Vinegar itself is a great sterilizer so you can give the containers a quick swoosh with you cheaper grade white vinegar and let it drip dry.
♨️ For additional information on this wonderful plant check out our write up on Nasturtiums in FAB Food.
♨️ Check out our Nasturtium Pesto or Nasturtium Basil Pesto recipes.
♨️ Check out our >Nasturtium Pesto Linguine recipe.
2 Reviews